Master of Arts in Strategic Communication and Public Relations
Make an impact with high-caliber digital media.
100% online coursework
Complete your MA in Strategic Communication and Public Relations in only 2 years
Graduate with a comprehensive portfolio of work — a great asset for job interviews
Advertising and promotions managers earn a median annual wage of $117,1301
The online MA in Strategic Communication and Public Relations equips you with advanced theory and a mastery of digital content. Graduate with a high-caliber portfolio demonstrating your skills in creating unstoppable messaging that you can use in your own communications practice or in today's top firms and organizations.
What Makes Us Unique?
Learn the Latest Technology Tools. In the online MA in Strategic Communication and Public Relations, you'll learn how to leverage key technologies and software to support your strategies. Gain the skills to create multimedia content, including HD video with the Adobe CS suite.
Have More Questions? Find Answers Fast.
Visit our Prospective Student FAQ Experience to get the online MA in Strategic Communication answers you need fast.
Learn More Today
Complete the form to learn more about this program.
Learn More by Doing More
With Sacred Heart University's online Master of Arts (MA) in Strategic Communication and Public Relations (SCPR), you'll develop complete, true-to-life projects in a creative environment that emulates a real agency setting.
Mentored by active professionals, you'll deliver on all aspects of modern communications campaigns, from ideation to multimedia creation in the Adobe CS suite, including HD video. Plus, you'll study critical elements of modern public relations, such as crisis prevention and response.
Over the course of the program, you'll develop a robust portfolio that will provide you with an instant edge over your competition in the job market.
If you're looking to complete your education on a quicker timeline, inquire about our accelerated one-year program.
Career Outlook: Join the Content Boom
According to the U.S. Bureau of Labor Statistics, employment opportunities for roles such as advertising, promotions and marketing managers will grow by eight percent between 2018 and 2028. Advertising and promotions managers earn a median annual wage of $117,130, while marketing managers come in slightly higher at $134,290.1
Across the communications field, content creation is becoming more and more essential. A 2018 survey from Adobe revealed that 60 percent of marketers are involved in more content creation than they were a few years ago, as are 75 percent of agency creatives.2
These skills are quickly becoming not just the exception but the norm for advanced communications positions.
CAREERS AND SALARIES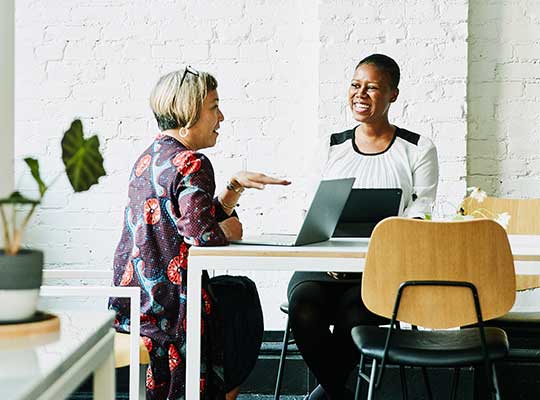 Curriculum: Become a Strategic Creator
Accredited by the New England Commission of Higher Education (NECHE), the online MA in SCPR is made up of 12 courses spanning 36 credit hours. Courses emulate a working agency and each project contributes to a standout creative portfolio.
Increase your knowledge on media ethics, crisis communications and strategic communication for diverse populations and gain the skills to create multimedia content, including HD video with the Adobe CS suite.
PREVIEW COURSES
Program Outcomes: Flex Your Creative Muscle
Through the online MA in SCPR, you will:
Master industry-standard multimedia tools, social media platforms and communications with diverse audiences
Create a high-quality portfolio to help you take the next steps in your career
Gain a theoretical, historical and practical understanding of strategic communication and media ethics
Know how to evaluate possible unexpected outcomes of communication and manage PR mishaps
Develop a critical and aesthetic understanding of communication and its social impact
Admission Requirements
To apply for the online MA in SCPR at Sacred Heart, you'll need the following:
Bachelor of Arts or Science degree from an accredited four-year college
Transcripts
Résumé
Personal statement
Two recommendation letters from academic or professional references
Work experience and GRE/GMAT scores are not required for admission.
APPLY NOW
Tuition Details
Affordability and transparency are priorities at SHU. We want you to have everything you need in order to make a decision about investing in a high-quality education.
TUITION AND FEES
Faculty
Comprised of published scholars and current media professionals, the faculty at Sacred Heart University have both the experience and the credentials to prepare you for a variety of employment opportunities in PR agencies, communications and marketing companies, and mid- to large-size organizations.
Accommodate your busy schedule and learn when and where it's convenient for you. As an online student, you'll work with the same accomplished faculty, receive one-on-one support and benefit from the same opportunities as our on-campus students.
ONLINE AT SHU
At Sacred Heart University, we strive to keep our programs affordable and encourage you to explore all of your financial aid options, including federal aid, military benefits and available scholarships.
FINANCIAL AID
Frequently Asked Questions
If you have a question we don't cover here, request more information or call 877-791-7181.
It takes two years to complete the MA in Strategic Communication and Public Relations program.
You may take up to six years to complete the program.
It may be possible to transfer up to nine credits of coursework that are relevant to this program.
Application Fee: $75
Registration Fee: $115 (Charged once per 16-week semester)
Library Fee: $40 (Charged once per 16-week semester)
Assessment Fee: $30 per semester (one-time for students starting Spring 2020 or later)
Textbooks, supplies, personal expenses, or loan fees
The program does not require GMAT or GRE scores.
Visit our FAQ page