What to expect as an MSW Student?
Explore Our Dynamic Curriculum
Sacred Heart University structured the online MSW program to prepare you to become a leader who contributes to positive, equitable social change. The program challenges you to gain the skills to support marginalized populations, offering two specializations that align with your professional goals: Direct Clinical Practice or Direct Community Practice.
Generalist track: 60 total credits
Advanced Standing: 30 total credits
These courses uniquely prepare students for social work practice and specifically address the needs of individuals and families, while simultaneously challenging and changing social structures that oppress whole populations
Keep reading to get a deeper understanding of Sacred Heart University's MSW curriculum. You can view assignment highlights and see how these courses and assignment prepare you for your social work journey.
Learn More Today
Complete the form to learn more about our programs.
[MUSIC PLAYING] SASHA AARONSON: If you're watching this video, you probably have a passion for helping those in need and making positive change in your community. And if you do have that passion for helping vulnerable people and communities, you probably know how difficult that work is. But that's exactly why we need more social workers equipped with the knowledge, the skills, and the values to successfully intervene with individuals, with families, with communities, and with larger social structures to create a more just society.
Our goal here at Sacred Heart is to equip you with the tools to intervene, while learning about the nature and the extent of systemic oppression. We all know that exploring systems of privilege and oppression can be challenging work, but so necessary to make the impact that we know we all want to make. This program will teach you the skills necessary to do this important work. It ultimately becomes quite empowering to know that you can use the knowledge to make a positive impact on society.
So here's how the Master's in Social Work online program works. We're a part time, totally online, completely asynchronous program. This means you'll never have to work in a live class into your busy schedule. All of the information you need for the entire semester will be available to you on your first day of classes. This means you can get your work done when it's convenient to you, within the deadlines of the course provided by your professors.
We use Blackboard here as a platform for your courses, and it's very user friendly. Even my technology-challenged mother can navigate it. The program starts with coursework in human diversity and social justice and social welfare, generalist practice, research, and then continues with courses in clinical and community assessment, anti-racist social work practice, and specialized practices, to just name a few. You actually get to choose from many of our electives to round out your education.
You'll start your field placement in the second year of the program, and complete two totally different placements. If you're admitted as an advanced standing student, then you would only do one placement. And this is where everything that you've learned and are still learning will be applied in a real life practice setting. You'll get to work with clients and communities in a variety of settings based on your interest. And you'll also have a field liaison that will help you through this whole process of finding and securing the field placement. Applying your knowledge to practice in a structured setting with supervision creates the perfect opportunity for you to advance your skills and feel prepared to practice a successful master's level social work.
And although you may feel alone at your computer, you won't be alone in this program at all. You'll have plenty of opportunities to engage with your instructors and your colleagues, as well as your faculty advisor. We offer a Connect to Success program that provides guest lectures on different topics relating to social work practice and success in the program. And the University also offers many live lectures and colloquia that are broadcast online. You'll also be required to engage in weekly online discussions and activities that make you connect to your classmates. In our program, just remember that we're all really just a phone call or email away. So come join us in tackling injustice and creating a positive change we all want to see in the world.
[MUSIC PLAYING]
Integrative Approaches. One Mission – Justice.
Sacred Heart University's MSW focuses on integrative practice that prepares you to navigate complex social problems across diverse populations and communities. For example, we prepare you to critically assess the needs of individuals and communities through a Social Justice lens, you will engage Research to deliver ethical and effective practices, and you will expand your readiness to enter the field through Experiential Learning.
Social justice is integral to each course in Sacred Heart University's online MSW. This comprehensive focus empowers you to dismantle oppressive systems and defend the dignity and worth of all individuals and communities.
SW 524 Human Diversity and Social Justice provides the opportunity to explore a social justice issue of your choice. In addition to conducting research, you will identify and interact with a local organization related to the project topic.
SW624 Anti-Racist Social Work Practice encourages you to identify, design, implement and reflect upon a doable project aimed at disrupting and dismantling racial injustice.
Social work settings are complex and nuanced. Thus, social workers must learn to rely on professional ethics, research, and critical thinking skills. That is why our online course demo provides you the opportunity to hone your critical thinking and research skills.
During the first week of SW 586 Clinical Assessment and Diagnosis, you will select a case from the required resources. Based on your choice, you will:
Research evidence-based intervention strategies to enhance your assessment and diagnostic skills related to treatment planning
Read the case and review the related DSM-5 diagnostic criteria to apply critical thinking skills to the diagnostic process
Research evidence-based interventions and think critically about constructive treatment approaches for particular mental disorders
Present your findings to your classmates who, in the role of "case consultant," will critique your presentation.
Hands-on learning is necessary to prepare the next generation of leaders in social work. SHU's online MSW offers an experiential curriculum that allows students to immediately apply their class content to real or simulated experiences.
Community activity
During SW 565 Social Welfare Policy I, you'll witness policy making in action by attending a municipal meeting in your local community. While taking photos and notes, you'll examine and analyze the surroundings, the process of accessing the meeting, the people and the overall experience.
Role Play
In SW 555 Children & Families, you'll partner with a classmate to roleplay a child interview.
Video Annotation
As part of SW 575 Generalist Practice I, you'll be asked to view the roleplay of a family session with a social worker and to identify family dynamics as they emerge.
Practice and hone your social work skills rooted in promoting social justice and human rights for all. This part of the program requires 14–21 hours per week across two semesters (for each placement).
SW 578 Generalist Field Practicum and Seminar I: The generalist field placement allows you to develop core competencies working with individuals, families, groups, communities and organizations.
SW 680 Specialized Field Practicum and Seminar II: The specialized field practicum allows you to develop advanced skills in an area that aligns with your career goals.
Learn more about the field experience.
View Course Descriptions
A Week-in-the-Life of an MSW Student at SHU
Each day as an MSW student, you will get learning opportunities that prompt you to adopt new, critical modes of thinking. This week-in-the-life scenario shows how you balance your work, life and school commitments while pursuing your degree. This hypothetical schedule includes two MSW courses: SW 575 Generalist Practice I and SW 578 Generalist Field Practicum and Seminar I. These courses require 14–21 hours per week(over two semesters). You also have the opportunity to engage as a community of learners by analyzing your experiences with your peers and seminar instructor.
Start each week with a consistent routine that helps you concentrate.
Review the course and practicum schedule for the week. Check for announcements from instructors.
Begin reading this week's course material and watching supplemental resources for both classes
After dinner, spend an hour reading course material
Complete your assigned readings to give yourself more time to complete assignments later in the week.
Complete a full day of practicum hours at the approved location
Record your responses to an assignment on active listening
Review the feedback that your professor and peers gave for last week's reflection assignment
Balance your school, work and life commitments.
Create your initial response to discussion board prompts for both your classes. Double-check your APA formatting for any references used.
Gain a better sense of your peers and how best to communicate with colleagues
Touch base with your professors about your upcoming projects
Double-check instructions and continue working on additional assignments that are due on Sunday. Ask professor questions for clarification.
Regroup in your practicum and plan to meet your upcoming commitments.
Complete the second full day of practicum hours at the approved location
Prepare and submit your practicum timesheet
Respond to emails from your professors and peers
Read through discussion posts from your peers
Position yourself for a productive and relaxing weekend.
Update the class journal with what you've learned from your recent practicum day
Review the prompt for your major research project: the Cultural Interview Paper
Start brainstorming and conducting research for your seminar paper
Reply to at least two peers' discussion posts in both classes. Ask them additional questions and expand on their thoughts.
Catch up on your personal, professional, and student obligations.
Review the research you gathered yesterday for your major research project
Begin drafting your Cultural Interview Paper to meet the due date
Draft a rough outline of how you'll compose the seminar paper
Get ready to meet the next week's coursework and practicum commitments.
Submit final assignment due for the week (i.e. papers, journal entries, small group activities)
Review your upcoming assignments
Start on your weekly reading to prepare for next week's classes
Make a checklist of the tasks to complete
Take some time to reflect and take care of yourself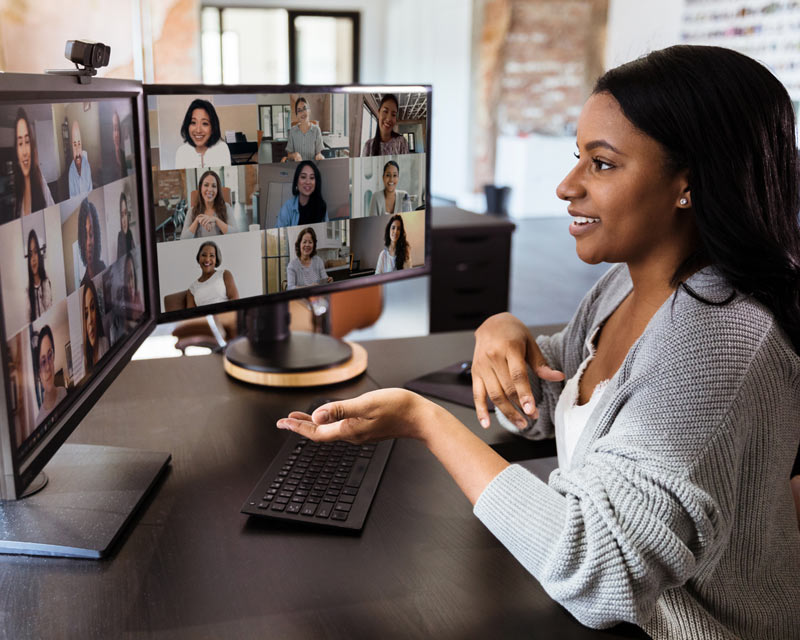 Faculty Connections, Peer Support
The online learning experiences offered in this online MSW will provide you with the support you would expect to receive on campus, but in an online format. Some of these online learning experiences include:
Dynamic Learning System
Mobile-friendly
Participate in discussion posts and check assignments and grades from anywhere.
Easy to use
Access lesson material, discussion boards, syllabi and grades, and submit assignments all in the same system.
Interactive resources
Engage with immersive lessons and course content.
Productive assessment
Take quizzes and access tools that check your understanding.