Online Student Experience
Online education from a leader in higher learning
At Sacred Heart University, we're committed to providing high-quality online programs that meet the high standards we've set on-campus for more than 50 years.
Here, your professors and fellow students become your learning community, supporting your journey to enrich your mind, body and spirit while you earn your bachelor's or master's degree.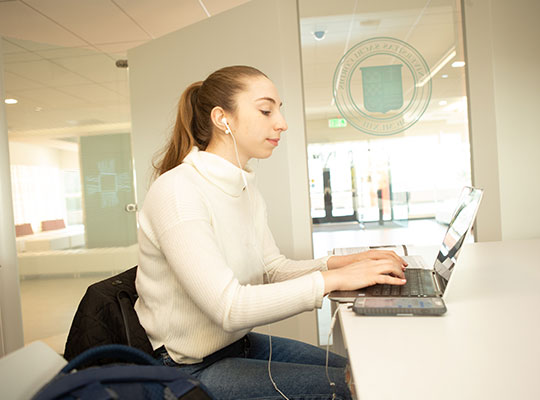 SHU Quality With Enhanced Flexibility
Our online programs allow you to complete your coursework around your personal and professional commitments. Study wherever works best for you—from your home, your local library, or your favorite coffee shop—on a schedule that fits your life.
You'll work with our renowned on-campus faculty, 80 percent of whom have the highest degrees in their field. In addition, our accredited online programs feature the same core curricula and opportunities that our on-campus students experience.
As an online student, you'll have one-on-one support every step of the way. As soon as you're enrolled, you will be assigned a Student Services Coordinator who can advise you at the beginning of each term and beyond.
Programs to Build Your Potential
Our high-quality online programs prepare you to tap into a wealth of new opportunities.
ONLINE SHU PROGRAMS
Technology & Support
Get familiar with the technology benefits and requirements of online learning with SHU.
SOFTWARE & HARDWARE NEEDS
"The most beneficial part of the program was the convenience and flexibility it allowed. Though it took commitment and discipline, I was able to work full time, and still have time to be involved with my two small children and husband."
How Does Online Compare to On Campus?
At Sacred Heart University, you'll get an online education that's just as demanding and enriching as our on-campus programs with the added flexibility to learn when it's best for your schedule.
Learn more about Sacred Heart University, including our history, community and acclaim.
Four Ways to Succeed as an Online Learner
Reach out to your professors. The sooner you connect with SHU faculty, the sooner you'll benefit from their support and mentorship. Plus, you can clear up any questions you have right away.
Find a study space that suits you. Some students prefer a boisterous collaborative workspace, while others need the quiet of their home or a library. Identify what works for you to stay productive.
Schedule your study time. It can be difficult to stay disciplined as an online learner, but scheduling your study time can help. Identify specific time frames for studying and stick with it.
Tap into your support system. Let friends and family know how they can support your online learning, whether with childcare, feedback on an assignment, or times when you need uninterrupted space to study.
Request more information if you have questions about online learning at SHU.
Frequently Asked Questions
Flexibility. Learning on your schedule is just more convenient, and you won't have to cut back on your hours at work or take a break from your career to earn your degree.
No, our courses are asynchronous, meaning that while there are still assignment deadlines, you can log into our platform and complete your coursework when you please.
We use Blackboard, a course management system that allows you to take exams and turn in your assignments, as well as check your grades, access your syllabi, and connect with other students.
Yes! Sacred Heart University is regionally accredited by the New England Commission of Higher Education (NECHE) and holds necessary programmatic accreditations as well. You'll be held to the same high standards as our students on campus. Learn more about Sacred Heart University's accreditations here.
The expected hours will vary per program with Sacred Heart University. In undergraduate courses, you can expect to work at least 8–10 hours per week, per class. For a graduate-level program, you may have 12–15 hours per week of classwork, per course. Contact us to learn more at 877-791-7181 or onlineadmissions@sacredheart.edu.