RN to Bachelor of Science in Nursing (BSN)
A CCNE-accredited RN to BSN online program that prepares you to become a healer.
Ranked among the best online bachelor's programs in Connecticut and the country by U.S. News and World Report1
Transfer up to 90 credits — saves you time and money
Flexible start dates — six options each year
A tradition of nursing excellence — 40 years and counting
Accelerated Pathway Opportunity — Complete your RN-BSN in as few as 10 months
International Study Experience — Expand your worldview and pursue your passion for nursing by taking a 2 week term at SHU's Dingle, Ireland campus.
Magnet hospitals and academic health centers — now require (or prefer) a baccalaureate degree for specific nursing roles. Develop the skills you need to become a well-rounded healthcare provider in any setting with SHU's RN to BSN online program.
Admissions Estimator
What Makes Us Unique?
Nursing expertise at every level. SHU is known for its excellence in nursing education. With programs at all levels of study, from BSN to DNP, SHU has the resources, expertise, and pathways that can propel you to continued career advancement and long-term success.
The Human Journey. SHU believes in a whole-person approach to patient treatment and nurse leadership. In the RN to BSN online program, you'll explore what it means to be a human being through literature, philosophy, religion, sociology, and more.
Learn More Today
Complete the form to learn more about this program.
Duration

1.5 – 3 years

Cost per Credit

$390

Credit Hours

120
Program Benefits
Accelerated pathway opportunity
Designed for working nurses
Learn from expert, full-time faculty
Complete your field work close to home
Hands-on, applied learning
Convenient, Flexible RN to BSN Online Plus $6,000 in Savings
As a working nurse, you're seeking a trusted, affordable program that fits your schedule. Grounded in healing and humanity, SHU's RN to BSN is CCNE accredited and carries a 40-year tradition of nursing education excellence. Our current tuition rates are $6,000 less than 2020 at $390 per credit hour, and we invite you to transfer current college credits to lower your program cost and duration.
In just 18 months, our flexible online RN to BSN will help you meet minimum level education requirements for most entry-level positions. And our full-time faculty nurses will support you with a holistic curriculum and local field work for hands-on learning to complete your nursing education.
Accelerated RN-BSN Opportunity: RN-BSN students have the opportunity to take 2 courses at a time and earn their degree in as few as 10 months. Request information to learn more.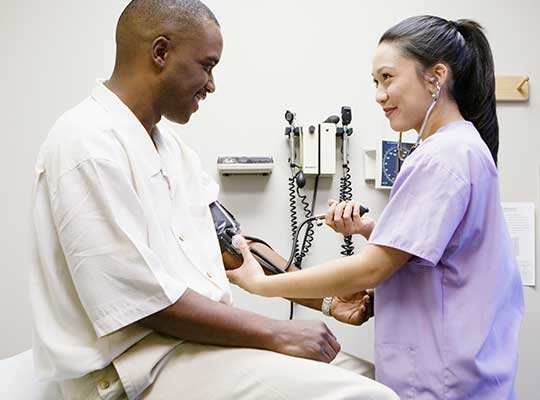 Curriculum: A Truly Holistic Education
Sacred Heart University's online RN to BSN program is accredited by the Commission on Collegiate Nursing Education (CCNE). It features a holistic curriculum designed for working nurses and those new to nursing, paired with the flexibility and convenience of online learning.
Through our signature core curriculum, you'll journey into what it means to be human, exploring our common condition and values through the prism of literature, history, sociology, science, philosophy and religion throughout the ages.
The goal of the online RN to BSN program is not just to educate you as a nurse — it's to prepare you to become a leader.
PREVIEW COURSES
Career Outlook: Higher Salaries for Advanced Credentials
According to the American Association of Colleges of Nursing, many professional practice settings — including Magnet hospitals and academic health centers — now require or prefer a baccalaureate degree for specific nursing roles. And a BSN degree is now the minimum level of education required for most entry-level nursing positions.2
Currently, the median pay for registered nurses is $77,600 per year.3 An RN to BSN could help propel you into the upper levels of this range, as well as qualify you for more lucrative employment opportunities.
CAREERS AND SALARIES
"The most beneficial part of the program was the convenience and flexibility it allowed. Though it took commitment and discipline, I was able to work full time, and still have time to be involved with my two small children and husband."
– Janice Rhodes, Hamden, Conn., RN to Bachelor of Science in Nursing
RN to BSN Student Learning Outcomes
The Student Learning Outcomes are derived from the American Association of Colleges of Nursing Essentials: Core Competencies for Professional Nursing Education (2021), Entry Level Competencies and Sub-Competencies. Upon completion of the BSN program, graduates will demonstrate the outcomes listed below:
Apply knowledge that integrates nursing science and the liberal arts to support ethical decision-making and inform clinical judgment.
Contribute as an integral member of the interprofessional team in formulation and implementation of plans of care with evidence-based, person-centered care principles that promote quality and safety outcomes.
Apply principles and practices of population health across the healthcare delivery continuum while caring and advocating for diverse individuals and communities.
Integrate best evidence into nursing practice and participate in evaluation of outcomes.
Recognize system policies and processes that impact quality health outcomes considering cost, access, social determinants, and care disparities.
Incorporate best practices of informatics and communication technologies in accordance with legal, regulatory, and professional practices to deliver safe nursing care.
Integrate concepts of professionalism including ethics, compassion, diversity, equity, and inclusion into one's professional nursing identity and demonstrate consistent professional behaviors.
Formulate a personal and professional leadership style that embraces self-care, reflection, life-long learning, advocacy, mentoring, and service to others.
Admission Requirements
To apply for the online RN to BSN program from Sacred Heart, you'll need:
2.5 minimum GPA
Associate's Degree in Nursing (ADN) or Diploma in Nursing
Current, unencumbered RN license
Résumé
Interview Questionnaire
Two recommendation letters from academic or professional references
Official transcripts from all previously attended institutions
Background check
APPLY NOW
Tuition Details
In response to the critical need for BSN-trained nurses, we've deepened our commitment to providing greater access to quality nursing education — the online RN-BSN now costs just $390 per credit hour. Compared to our tuition rates in 2020, this is a $200 per-credit-hour savings.
The program features a total of 30–120 credits. To save money and time, you may transfer in up to 90 credits, subject to program director approval.
Affordability and transparency are priorities at SHU. We want you to have everything you need in order to make a decision about investing in a high-quality education.
See New Tuition Rates
Faculty: Committed to Your Success
With decades of combined experience, the faculty at Sacred Heart University are not only well-grounded in the fundamental principles of nursing, they have a firm understanding of recent health care developments and state-of-the-art educational methods.
Accommodate your busy schedule and learn when and where it's convenient for you. As an online student, you'll work with the same accomplished faculty, receive one-on-one support and benefit from the same opportunities as our on-campus students.
ONLINE AT SHU
At Sacred Heart University, we strive to keep our programs affordable and encourage you to explore all of your financial aid options, including federal aid, military benefits and available scholarships.
FINANCIAL AID
Frequently Asked Questions
If you have a question we don't cover here, request more information or call 877-791-7181.
There are a total of 72 clinical hours that must be completed during the RN to BSN program.
You may transfer up to 90 credits, meaning you only need 30 credits to complete the BSN degree.
To be considered for admission, candidates must have the following:
Current, unencumbered RN license
Associates Degree in Nursing (ADN) or Diploma in Nursing
GPA of 2.5 or above
Official transcripts from all previously attended institutions
Résumé
Interview Questionnaire
Two letters of recommendation
Background check
Prerequisite courses in Social and Behavioral Science, Anatomy & Physiology I and II, and Statistics for Decision Making
You have up to five years to complete the program.
You can complete the online BSN in 18 months.
Visit our FAQ page