RN to Bachelor of Science in Nursing (BSN)
Program overview
Nurture the heart of a healer.
At Sacred Heart University, we believe nursing is more than a career — it's a calling. Develop the skills you need to become a well-rounded health care provider in any setting.
At Sacred Heart University, we believe nursing is more than a career — it's a calling. Develop the skills you need to become a well-rounded health care provider in any setting.
Request More Information
Fill out the form below and a skilled and knowledgeable Admissions Representative will get in touch to answer your questions and help with the application process.
A Tradition of Excellence
There are many reasons Sacred Heart University is ranked among the best online bachelor's programs and the best online graduate nursing programs in the country by U.S. News and World Report.
Since 1980, Sacred Heart has provided nursing students with a comprehensive, innovative, professional education grounded in healing and humanity — setting the benchmark for what nursing education should be.
Career Outlook: Higher Salaries for Advanced Credentials
According to the American Association of Colleges of Nursing, many professional practice settings — including Magnet hospitals and academic health centers — now require or prefer a baccalaureate degree for specific nursing roles. And a BSN degree is now the minimum level of education required for most entry-level nursing positions.1
Currently, the median pay for registered nurses is $71,730 per year.2 An RN to BSN could help propel you into the upper levels of this range, as well as qualify you for more lucrative employment opportunities.
CAREERS AND SALARIES
"The most beneficial part of the program was the convenience and flexibility it allowed. Though it took commitment and discipline, I was able to work full time, and still have time to be involved with my two small children and husband."
– Janice Rhodes, Hamden, Conn., RN to Bachelor of Science in Nursing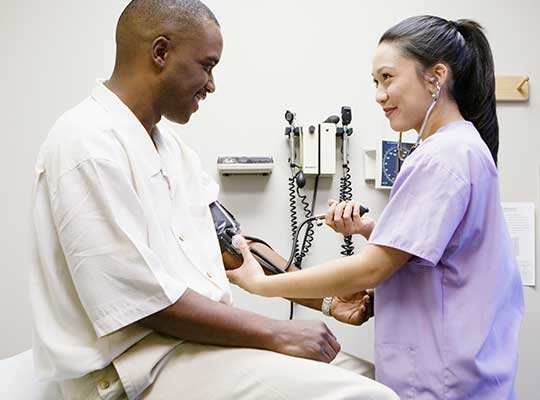 Curriculum: A Truly Holistic Education
Sacred Heart University's online RN to BSN program is accredited by the Commission on Collegiate Nursing Education (CCNE). It features a holistic curriculum designed for working nurses and those new to nursing, paired with the flexibility and convenience of online learning.
Through our signature core curriculum, you'll journey into what it means to be human, exploring our common condition and values through the prism of literature, history, sociology, science, philosophy and religion throughout the ages.
The goal of the online RN to BSN program is not just to educate you as a nurse — it's to prepare you to become a healer.
PREVIEW COURSES
Program Outcomes: Take the Next Step in Your Nursing Career
You'll complete this program ready to:
Promote health, wellness and care across various cultures
Develop into a clinical leader across health care settings
Measure qualitative and quantitative metrics for care outcomes
Apply an understanding of bioethics to your practice
Harness information technology to improve your patient care practices
Admission Requirements
To apply for the online RN to BSN program from Sacred Heart, you'll need:
2.5 minimum GPA
Associate's Degree in Nursing (ADN) or Diploma in Nursing
Current, unencumbered RN license
Résumé
Statement of professional goals
Two recommendation letters from academic or professional references
Official transcripts from all previously attended institutions
Background check
APPLY NOW
Tuition Details
This program costs $590 per credit and features a total of 30–120 credits. To save money and time, you may transfer in up to 90 credits, subject to program director approval.
Affordability and transparency are priorities at SHU. We want you to have everything you need in order to make a decision about investing in a high-quality education.
TUITION AND FEES
Faculty: Committed to Your Success
With decades of combined experience, the faculty at Sacred Heart University are not only well-grounded in the fundamental principles of nursing, they have a firm understanding of recent health care developments and state-of-the-art educational methods.
Accommodate your busy schedule and learn when and where it's convenient for you. As an online student, you'll work with the same accomplished faculty, receive one-on-one support and benefit from the same opportunities as our on-campus students.
ONLINE AT SHU
At Sacred Heart University, we strive to keep our programs affordable and encourage you to explore all of your financial aid options, including federal aid, military benefits and available scholarships.
FINANCIAL AID