Master of Arts in Clinical Mental Health Counseling
An online mental health counseling program that prepares you for licensure.
Earn your degree in as few as 2 years
Complete your master's degree in counseling online at your own pace
High job growth — the mental health counseling field's expected to grow 25% and create more than 79,000 new positions by 20281
The online master's in Clinical Mental Health Counseling is committed to excellence and prepares you to become a leader that can make a difference in the global community. You'll focus on prevention, resilience, and well-being, equipping you with the skills to recognize the dignity and worth of every human.
Discover Your Potential with the Admissions Estimator
Admissions Estimator
What Makes Us Unique?
Graduate Licensure Ready. The online master's in Clinical Mental Health Counseling program is developed with the Council for Accreditation of Counseling and Related Educational Programs (CACREP) standards and offers a nationwide curriculum so you can confidently sit for licensure exams post-graduation. Each course is guided by an expert educator who brings years of diverse counseling experience to the online classroom.
Learn More Today
Complete the form to learn more about this program.
Duration

2 years

Cost per Credit

$800

Credit Hours

60
Program Benefits
Online coursework completed when/where it's convenient
Two valuable residencies in Connecticut
Supervised practice hours through advanced internships
Hands-on, applied learning
Promote Well-Being as a Licensed Clinical Mental Health Counselor
Your desire to help people and improve their mental and emotional state drives you. An online master's in clinical counseling prepares you for licensure in several states so you can enter a field that is growing faster than average – 25% through 2029 – with as many as 79,000 available jobs1 expected.
Sacred Heart University's CMHC degree is led by expert educators who bring a wealth of diverse experiences to the online classroom. As you garner their insights and master theories, techniques, research and diagnostic assessments, you'll graduate prepared to provide sound treatment for growing mental health issues like suicide, anxiety and depression.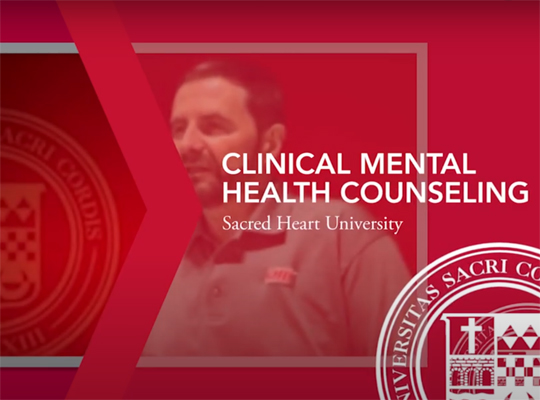 FRANK HUDSPETH: Within a clinical mental health counseling program, you're giving a really solid foundation that can be adapted for agency settings, private practice, hospitals, VAs, things like that.
So it's a very versatile degree. It's a very versatile branch of counseling that's around to give the individual that's seeking the degree many options once they finish their degree and get licensed.
My name is Frank Hudspeth. I'm associate professor and program director of clinical mental health counseling program at Sacred Heart.
When we were thinking about the program and designing the program, we wanted it to feel like a traditional program but, at the same time, have the flexibility of an online program.
Flexibility is not do anything that you want whenever you want. Flexibility is– there are set deadlines but reaching these deadlines is up to the student.
They can work daily. They can work every couple of days. They can do a lot of stuff on weekends, at nights, after hours.
The work that they do with their classmates– they can schedule that at their own leisure and, more or less, get everything accomplished, still meet deadlines, but it gives them that flexibility of being in control of when things get done around their family, their job, their own self-care.
Once you get accepted into the program and enrolled in courses, and you have the option of being a full-time student or a part-time student.
A full-time student will finish the program in two years. A part-time student can take it at a slower pace.
Regardless of whether you're a full-time or part-time student, you come in the program and in that first term, you take three specific courses.
Those courses are there to anchor you to the program, to the counselor identity, and the profession. And they, up front, builds your foundation in counseling skills and theories.
The on-ground residency serves many purposes. It brings all the students together, their cohort together.
It brings them together with the faculty in the same, more or less, breathing space to do a lot of individual work, group work.
We do the same work online. The students do it, record it, submit it for grading and feedback. The student population itself is diverse because the counseling profession and the desire for individuals to help others brings in diverse people.
To become a successful counselor, to be effective in what you do, you have to believe in the skills and the theories that you learn to use.
A lot of the coursework, a lot of the work we do within the program, is to help individuals explore their own identity, their own worldview, their own belief system. And so we help them explore.
We give them the tools that they need through skills and theories. And more or less, as they move through the program, these theories become how they're going to work with individuals, incorporate the skills and the theories together.
They will administer them through that theoretical orientation and that, itself, brings about effectiveness.
A Curriculum Designed for Licensure
Developed with CACREP standards as a foundation, the online master's in clinical mental health counseling from Sacred Heart University delivers courses in an online learning platform. Balance your education with your full-time responsibilities and complete your master's degree in counseling online at your own pace.
In addition, the online master's in clinical mental health counseling program utilizes a nationwide curriculum designed to prepare students to meet the educational requirements for licensure in many states. Each course is guided by an expert educator who brings years of diverse counseling experience to the online classroom.
Preview Courses
Career Outlook: Improve the Lives of Others
Research conducted by the Bureau of Labor Statistics expects the field of mental health counseling to grow 22% and create more than 68,000 new positions by 2028 (1). With the online master's in clinical mental health counseling from Sacred Heart, you'll build an academic foundation developed with CACREP standards as you gain advanced industry expertise and prepare for diverse roles in clinical counseling.
Upon completion of Sacred Heart University's master's of mental health counseling, you'll be prepared to assist individuals who are experiencing significant life stress and presenting problems such as low self-esteem, job loss, depression, substance abuse, grief, anxiety, family violence, relationship issues, eating disorders, and other mental health related challenges.
With an online Clinical Mental Health Counseling degree, you can pursue your passion of helping others and make a positive impact in the global community. Designed for your professional achievement, Sacred Heart University's online Clinical Mental Health Counseling degree delivers the expertise you need to succeed as a leader in your chosen career.
Careers and Salaries
Program Outcomes: Enact the Spirit of Dignity and Worth
To deliver positive outcomes for students, Sacred Heart's online master's in clinical mental health counseling program is designed to:
Train Clinical Mental Health Counselors (CMHCs) to be ethical and competent clinicians with a strong counselor identity in accordance with American Mental Health Counselors Association (AMHCA) ethical standards and the American Counseling Association (ACA) Code of Ethics, in order to prepare for careers as counseling professionals who advocate on behalf of the profession.
Train CMHCs to cultivate knowledge and self-awareness of socially, culturally and spiritually appropriate skills and practices in professional counseling that promote social justice and advocacy efforts while minimizing barriers between counselors and clients.
Train CMHCs in theories, etiology of human growth and development, relevant environmental factors and ethical strategies to promote optimum wellness for diverse clients across the lifespan.
Train CMHCs to apply career development theories, decision-making models and occupational information to develop strategies for supporting and advocating for clients in relation to their unique career development within a global economy.
Train CMHCs to understand and demonstrate essential and applicable counseling techniques and culturally relevant strategies as well as theories, models and skills for client consultation, treatment, intervention and prevention.
Train CMHCs to implement knowledge of therapeutically appropriate strategies for effectively forming and facilitating group counseling in a variety of settings.
Train CMHCs in ethical and appropriate intake, assessment, case conceptualization, diagnosis, treatment planning, documentation and clinical treatment to properly serve clients across multicultural perspectives.
Train CMHCs to evaluate and incorporate ethically and culturally relevant research findings when selecting strategies for prevention, intervention, treatment and program evaluation.
Train CMHCs to utilize community resources, referral sources and case management services in accordance with their role as clinical mental health counselors, including situations involving trauma, crisis or risk to client well-being.
Prepare future CMHCs to provide wellness- and holistic-based services to clients who seek help with everyday life concerns as well as those who struggle with significant emotional, cognitive, developmental and behavioral challenges.
Train CMHCs to cultivate and implement culturally relevant clinical skills and strategies for best practice through supervised practicum and internship experiences.
Train CMHCs in the specific and added educational requirements necessary for licensure that may be outlined by their intended state of licensure.
Admission Requirements
To apply for the online master's in clinical mental health counseling from Sacred Heart University, you'll need the following in addition to your online application:
Non-refundable application fee
No standardized testing is required (GRE or MAT)
Successful completion of a baccalaureate degree
Cumulative undergraduate GPA of 2.75 or better. Only applicants with a cumulative GPA of 2.75 and higher will be considered for admission.
Official transcripts from all colleges and universities attended (undergraduate and graduate).
Two (2) professional letters of recommendation (one from an academic source and one from an employer or volunteer supervisor).
Completion of a state-specific acknowledgement form. This must be completed with a counseling program faculty member present. Note: This serves as a time for applicants to ask program-specific questions that can only be answered by the counselor education program faculty.
Response to Personal Statement form questions
Complete a video conference interview
Be available for two (2) week-long, in-person residencies at SHU
Special notes about admission:
Currently, we do not accept applicants from the following states: Illinois, Kansas, Missouri, Nevada, New Jersey, New York, North Carolina, Ohio, Virginia and Wisconsin. Applicants may not live in or be seeking licensure in any of these states.
Apply Now
Tuition Details
This 60 credit hour program costs $800 per credit hour, for an estimated tuition of $48,000. Affordability and transparency are priorities at SHU. We want you to have everything you need in order to make a decision about investing in a high-quality education.
Tuition and Fees
Faculty
The online master's in clinical mental health counseling program offers a selection of courses, each guided by a faculty of expert educators. Faculty members share diverse backgrounds in professional counseling and build classes on real-world experience to provide relevant and challenging lessons to students.
Accommodate your busy schedule and learn when and where it's convenient for you. As an online student, you'll work with the same accomplished faculty, receive one-on-one support and benefit from the same opportunities as our on-campus students.
ONLINE AT SHU
At Sacred Heart University, we strive to keep our programs affordable and encourage you to explore all of your financial aid options, including federal aid, military benefits and available scholarships.
FINANCIAL AID
Frequently Asked Questions
If you have a question we don't cover here, request more information or call 877-791-7181.
The master's in CMHC has two, one-week residencies. You can learn more about these components on our
courses page
.
Developed with CACREP standards as a foundation, the online master's in clinical mental health counseling offers a curriculum that meets licensure requirements in most states, except New York, New Jersey, Wisconsin, Ohio, North Carolina, Virginia, Kansas, Missouri, and Illinois. We do not accept applicants that reside or intend to seek licensure in these states.
The online Master of Arts in Clinical Mental Health Counseling program can be completed in two years.
You may take up to six years to complete the program.
100 practicum hours over one academic term
600 to 1000 hours of internship hours over two or three academic terms, depending on the requirements of the state where you intend to seek licensure.
Learn more about clinical hours on our courses page.
Visit our FAQ page
Sources:
Substance Abuse, Behavior Disorder, and Mental Health Counselors. Occupational Outlook Handbook. Retrieved July 23, 2021, from https://www.bls.gov/ooh/community-and-social-service/substance-abuse-behavioral-disorder-and-mental-health-counselors.htm.