Online MSN Psychiatric Mental Health Nurse Practitioner
Advance Your Nursing Career in Psychiatric Mental Health
Sacred Heart University's 42-credit MSN PMHNP program is designed for BSN-prepared nurses who wish to advance as Psychiatric Mental Health Nurse Practitioners (PMHNPs). Students gain the expertise required for specialized, psychiatric APRNs. This credential is vital for those looking to achieve certification and APRN licensure in psychiatric mental health.
Admissions Estimator
What Makes Us Unique?
Students develop the skills to manage the care of patients with mental health conditions, while faculty experts provide a close mentoring relationship, while residency experiences support hands-on learning skills.
Learn More Today
Complete the form to learn more about this program.
Duration

2.5 years

Cost per Credit

$955

Credit Hours

42
Program Benefits
Prepare for the certification exam from the American Nurses Credentialing Center
Learn from practicing clinical experts
Specialize your MSN in Psychiatric Mental Health
Become Licensed as an APRN in Psychiatric Mental Health
Graduates from the MSN PMHNP program emerge with expanded professional skills that allow them to care for a patient's mental and emotional needs in various healthcare settings at all stages of life. In addition to conceptual knowledge and hands-on mastery, Sacred Heart nurses learn from clinical experts in an environment that prioritizes social justice and concern for the common good, resulting in advanced healthcare professionals invested in positively shaping their communities.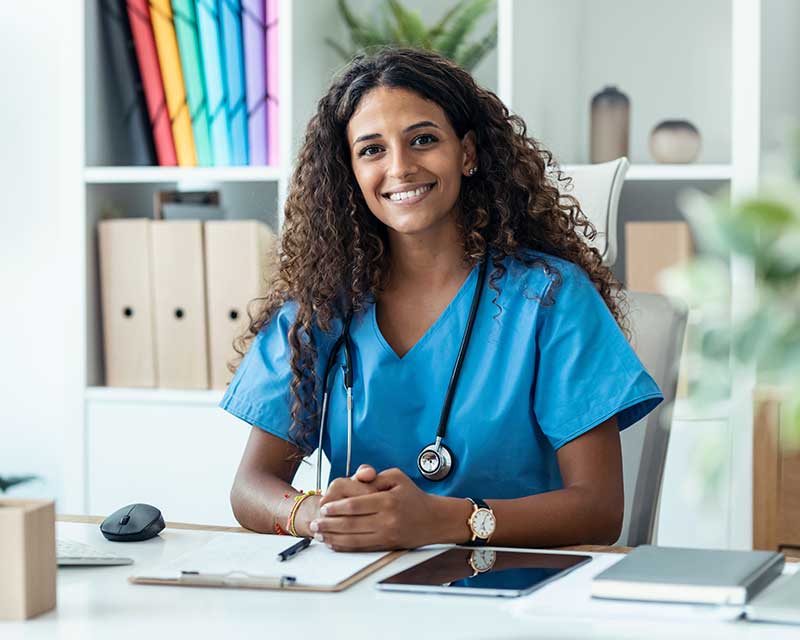 Independently Manage the Care of Patients with Psychiatric Mental Health Conditions
In addition to enhancing patient care and career opportunities, earning the PMHNP can help nurses meet the growing demand for mental health nurse professionals. With more than 30,000 jobs projected to open each year for qualified practitioners1. PMHNP graduates will be able to successfully step into roles in hospitals, outpatient care settings, and more.
Career Outlook
An Online Curriculum for Expert Nurse Practitioners
Complete courses part-time
Sacred Heart core courses include Health Care Policy and Ethics for Contemporary Nursing Practice, Advanced Pathophysiology for the Nurse Practitioner, Advanced Primary Care of Families in Complex Systems and more. In addition, all programs supplement online coursework with in-person residencies and 540 hours of required practicum experience so nurses graduate with confidence in the skills they need to prepare for certification and, eventually, licensure.
Curriculum Details
Admission Requirements
Transfer up to 9 credit hours
Students who apply to the MSN PMHNP program choose to embark on the next stage of their career with the support of an education that readies them to treat patients in mind, body and soul. Admissions requirements to apply to this program include the following:
Degree
BSN from an accredited college
Transcripts
Unencumbered RN license
Other Requirements
Prerequisite undergraduate courses in statistics and research
Minimum 3.0 GPA
Online Application Form
Apply Now
Admission Details
Tuition and Fees
By investing in Sacred Heart's MSN-PMHNP program, nurses can acquire the knowledge, skills and credentials needed to become a Psychiatric Mental Health Nurse Practitioner, a highly sought-after specialty in the nursing field. This advanced degree can help open up new career paths and leadership opportunities within healthcare organizations, allowing nurses to have a greater impact on patient care and outcomes.
Note: Tuition rates are subject to change and additional fees may vary by program.
Tuition Details
What You'll Learn
Students in Sacred Heart's online MSN PMHNP degree will learn to assess, diagnose and treat patients at different life stages with a range of physical, mental and emotional healthcare needs. Upon completion, graduates will have the conceptual and practical knowledge to provide—and promote—equitable, high-quality care in their communities.
Program Outcomes
Put philosophical and theoretical traditions of nursing science into action
Lead interprofessional teams to develop and evaluate plans of care
Implement health policies while advocating for equitable and sustainable healthcare
Model leadership that embraces self-care, curiosity, advocacy, mentorship and service
Online Study at Sacred Heart University
By enrolling in Sacred Heart University's online program, students gain access to a team of supportive faculty and expert student services. Online study includes:
A flexible, asynchronous format
An experienced and caring faculty
24/7 IT Support
Full-time and part-time flexibility
Explore the Online Experience