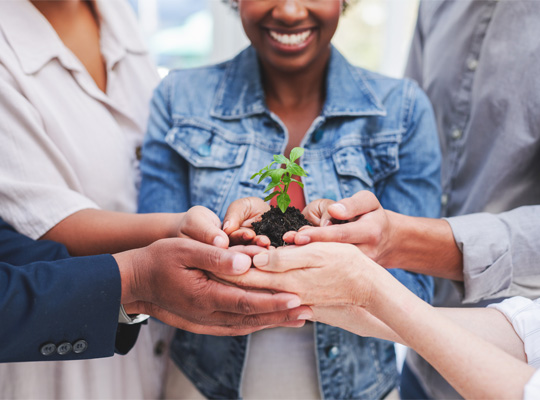 Corporate social responsibility (CSR) has been an area of focus in business for years. Organizations across all industries highlight their socially responsible practices and their efforts to positively impact the world. Doing so is not just good for the causes they care about — it's a good business decision. The reality is that consumers are engaging with brands based on their social responsibility initiatives and businesses need to respond – or risk becoming outdated. Whether it's environmental issues, social justice or charitable efforts, customers increasingly expect the places they shop to share their values.
According to surveys, this trend has been primarily driven by young consumers — namely millennials and Gen-Z. The Horizon Media's Finger on the Pulse study found that 81% of millennials expect companies to make a tangible commitment to good corporate citizenship. Gen-Z takes it a step further. Not only do they prefer to buy from sustainable brands, but they're also willing to spend 10% more on sustainable products, according to a recent study.
Given how important a brand's values and principles are to younger generations, it should come as no surprise that this is shifting the way companies do business, according to Kirk Olson, VP of Trend Sights at Horizon Media.
"It used to be that companies would align with charities that shared their same values," Olson told Forbes. "Now brands are taking these do-good values and baking them into their corporate identities."
While brands need to incorporate CSR values into their business, it's also critical for them to understand how they can communicate and promote their corporate social responsibility strategy to prospective customers. They must convey their CSR through authentic and honest storytelling. When done correctly, this process highlights the important relationship between PR and CSR and the positive impact it can have on brand awareness, loyalty and reputation. An MBA degree with a concentration in public relations is an excellent way to learn how to weave these two essential components together to form that authentic story.
What is Corporate Social Responsibility?

Corporate social responsibility can encompass a wide range of initiatives and actions, but it's largely understood as a concept where businesses incorporate social and environmental concerns into their day-to-day operations. Companies that pursue CSR strategies often do so with two goals in mind. The first is to take action that reflects the ethical concerns and beliefs of upper management and other stakeholders — most CSR initiatives exist to do more than increase the bottom line. The second is to use CSR as a valuable way to improve customer loyalty, communicate to them that the business shares their values and express that they are an organization customers can trust.
The benefits of corporate social responsibility become readily apparent when looking at polling. A 2019 survey from Aflac found that 77% of consumers are committed to buying from companies that are dedicated to making the world a better place. A previous study conducted by Cone Communications revealed a stunning 91% of consumers around the globe expect companies to do more than make a profit, but also take operational steps to address social and environmental issues.
One of the most effective and well-known examples of CSR done right is Dawn dishwashing liquid. In the late 1970s, researchers found that Dawn's dishwashing soap was the most effective at cleaning birds who had been contaminated by oil spills. Eventually, Dawn's parent company, Procter & Gamble, donated cases of the soap to the cause and when the Exxon Valdez ran aground, Dawn became a media fixture as environmentalists helped clean up. In the years since, Dawn has donated to animal rescue efforts and emphasized its cleanup efforts in advertising. After all, if it's good enough to remove oil from animals, it's certainly good enough to remove stains from dishes.
Food producer Chobani, most known for its Greek yogurt, has also placed its CSR efforts at the center of its brand identity. In addition to following responsible manufacturing practices and a culture of nutritional wellness, Chobani makes tangible contributions to the community.
Over the years, its employees have volunteered more than 24,000 hours, the company has donated more than 55 million products and delivered more than 175 grants to causes Chobani cares about. For example, a recent Chobani grant helped the Idaho Foodbank purchase a refrigerated truck to make deliveries in the Magic Valley, home to Chobani's Idaho location.
Similarly, outdoor clothing company Patagonia is fiercely committed to employing environmental activism to address the growing climate crisis. It has an entire section of its website dedicated to providing educational resources and information about the importance of public land and other environmental issues. Patagonia also works exclusively with brand ambassadors who are dedicated to living the vision the company has established.
None of this would be effective without authenticity, however. Patagonia has taken concrete steps to live up to its ideals. Since 1985, the company has pledged 1% of its sales to environmental preservation and has contributed $140 million in cash and in-kind donations to environmental groups. In addition, Patagonia touts the ethical and responsible way it treats its employees — offering fair wages and benefits while providing flexible work schedules and paid time off.
Patagonia also provided its customers with resources to increase their own activism. They released a tool — Patagonia Action Works — that helps connect volunteers to opportunities to get involved in activism in their communities.
"If we could connect our community, friends, and customers directly with local groups working on issues they are passionate about, suddenly these organizations would have the capacity to achieve even more," Lisa Pike Sheehy, vice president of environmental activism at Patagonia, says in the promotional video. "Everybody has a role to play in this movement."
What is CSR in Public Relations?
Establishing a culture of CSR is important, and public relations plays a critical role in establishing a brand's trustworthiness. The relationship between PR and CSR is essential — companies must communicate the tangible steps they're taking that reflect their ethical foundation and beliefs. However, it can be a challenging tightrope to walk. PR professionals need to be adept at telling the CSR story in an honest and authentic way without coming off as performative or suggesting that the business is only pursuing CSR as a marketing tactic.
The communication tightrope is easier to walk when businesses begin CSR strategies for the right reasons. Companies should only pursue CSR efforts in which they truly believe, not as a publicity stunt — savvy millennial and Gen Z consumers can spot the difference. Only after the CSR initiatives have been implemented should PR come into play — then it's all about communicating the work the business is doing. Done differently, CSR is purely for marketing purposes, which can seriously damage a brand's reputation and erase any of the benefits of corporate social responsibility.
The footwear brand TOMS provides an excellent example of the perfect blend of PR and corporate social responsibility. TOMS has CSR baked into its DNA. It was established with the mission of donating one pair of shoes to children in need with each sale. In the years since, it has donated more than 60 million pairs of shoes. In addition, they also contribute a portion of their profits to other philanthropic organizations such as charity:water.
TOMS has excelled at combining its CSR, PR and marketing efforts. To see just how successful TOMS has been, all one needs to do is look at how much the company has grown since its founding 2006. It has moved on from being purely a footwear brand. Now, its "one for one" business approach includes glasses and coffee — with the sales of the latter providing clean water for cooking, drinking and other sanitation uses — impressive growth for a company that sold 10,000 shoes in its first year. TOMS founder Blake Mycoskie explained why CSR has proven to be such a successful part of the business strategy.
"If I would've taken half a million dollars and just bought shoes to give to the kids, I would've been able to give the shoes once," he told Success magazine. "It never would've been as far-reaching and sustainable as TOMS Shoes is now. If you take the option of starting a for-profit business that gives back a large part of what it brings in versus a straight charity, you're going to help a lot more people with the for-profit business."
Because the brand was formed with the CSR at the foundational level, its PR and marketing strategies don't come off as inauthentic, self-promotional or problematic. After all, consumers who buy their shoes get the feeling of contributing to the greater good as well.
The Benefits of Corporate Social Responsibility
Developing, and communicating, an effective CSR strategy is not just beneficial for the causes that businesses support, but it is also an essential part of building customer loyalty, especially as consumers are more conscious of what a company stands for and how they make a difference. According to a study from Accenture, more than half of consumers said they would pay more for sustainable products.
"The shift in consumer buying, with more consumers willing to pay extra for environmentally friendly products, reinforces the need for companies to increase their commitments to responsible business practices," said Jessica Long, a managing director in Accenture Strategy. "Companies across industries have started to lead with purpose, including embracing the circular economy as a greater opportunity to drive growth and competitive agility."
Melding CSR and PR also has a significant impact on brand reputation. Companies that become synonymous with their philanthropic efforts will garner more positive media coverage, and these CSR efforts can become a focal point of the conversation around the brand itself.
Taking steps to become responsible corporate citizens can help businesses reap several benefits. In addition to boosting consumer loyalty and brand reputation, a robust CSR strategy provides:
Greater employee engagement: companies that encourage employees to volunteer and give back to the community see a boost in engagement.
Investment opportunities: sustainable investing is on the rise — up 68% since 2014.
Increased profits: 64% of Americans are willing to pay more for sustainable products.
Vermont-based ice cream brand Ben & Jerry's is a good example of a company making its socially responsible ethos the centerpiece of its brand — and benefiting from it. In addition to coining iconically punny names (seriously, does it get any better than Cherry Garcia?), Ben & Jerry's were pioneers in CSR. It's been contributing 7.5% of its annual pre-tax profits to community organizations for more than 35 years. The causes they champion run the gamut from climate change to racial justice to refugee rights.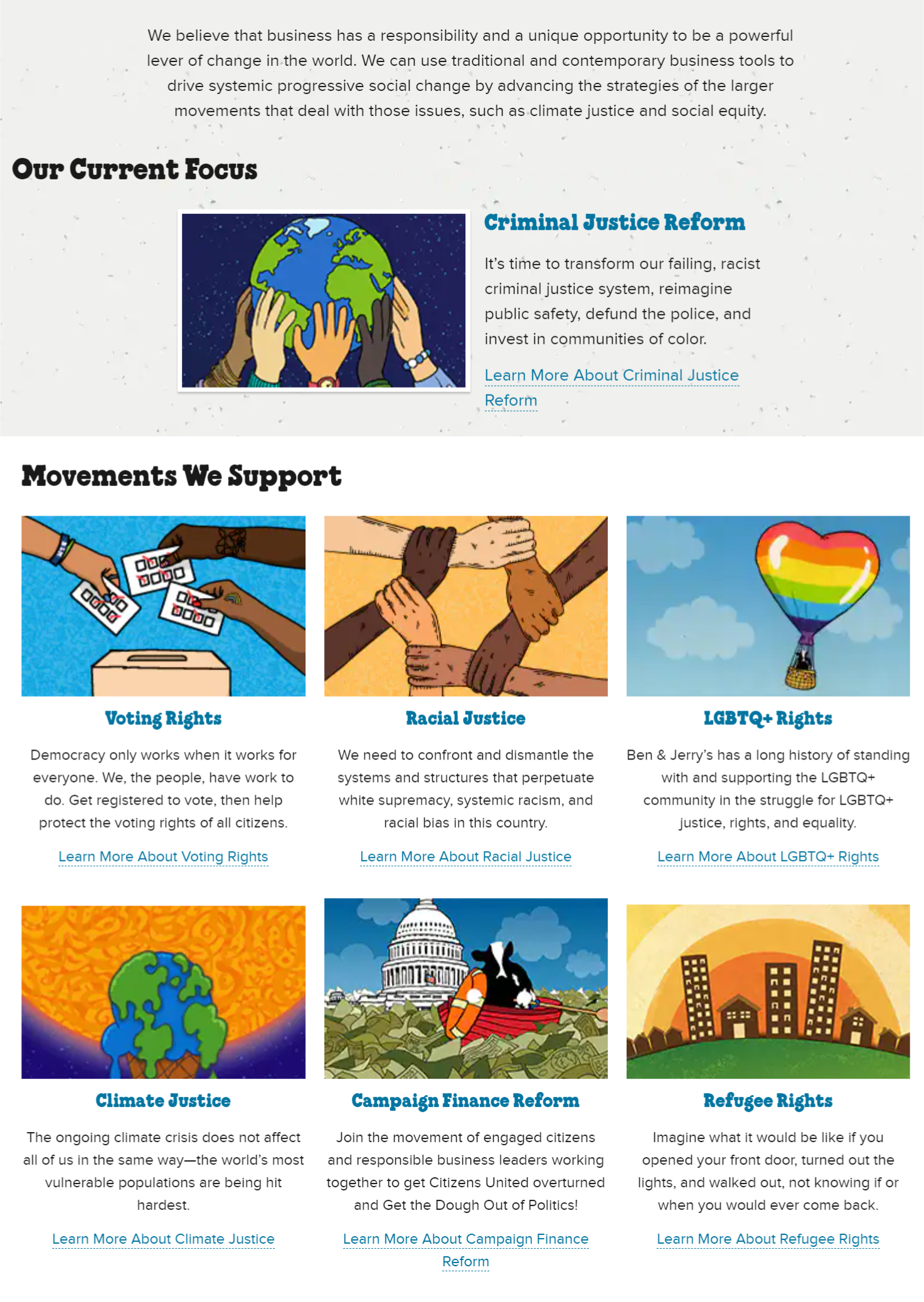 The dedication to CSR has paid off, illustrating the benefits of corporate social responsibility. This is borne out in the numbers: Ben & Jerry's reported sales of $681.5 million in 2019. In 2000, when it was sold to consumer goods giant Unileaver, its sales were reported at $237 million. Since opening the first Ben & Jerry's scoop shop in Burlington, Vermont in 1978, the company has grown to more than 600 locations around the globe.
Chobani has experienced similar growth in recent years. According to the Wall Street Journal, it saw its yogurt sales grow by 12% in 2019. It has expanded its product offering to include refrigerated coffee, creamer and oat milk. The growth comes as Chobani mulls an IPO valued at as much as $10 billion.
A Career Path to Do Good
The relationship between PR and CSR is important, and it requires a unique skill set to be done well. Having the ability to walk the thin line between self-promotion and authentically supporting causes that businesses champion is a crucial component of public relations, and it requires a mastery of digital content and familiarity with advanced PR theory.
Sacred Heart University's online master's in strategic communications equips graduates with the skills they need to share and promote the CSR stories of businesses. Using the latest technology, students learn how to leverage the latest software to support various PR strategies. This includes cutting-edge VR technology offered by the Facebook Oculus Quest headset. Students also develop multimedia skills, including video editing, to tell stories in the most engaging way possible.
An online master's in strategic communication prepares graduates for a variety of careers. Thanks to broad multimedia skills and a talent for storytelling, graduates can work as advertising, promotions and marketing managers, communications directors, PR executives and more. The self-paced, fully online structure of Sacred Heart's program helps students take classes that fit their schedule so they can become the communicators of the future without having to take time away from their current careers.
Learn more about Sacred Heart University's NECHE-accredited M.A. in Strategic Communication and Public Relations program.
Recommended Articles
View All