Post-Master's Doctor of Nursing Practice
As of the Fall 2023 admission cycle, the program will be transitioned to hybrid format and no longer be offered as 100% online. To learn more about the hybrid DNP program, click here.
Earn your CCNE-accredited post-master's DNP at a university known for nursing excellence.
A practiced focused curriculum
100% online coursework
Qualify for roles with a median annual income of $123,780 and 40% projected growth rate through 20311
As the health care industry evolves, the need for leaders who can stay ahead of the curve is greater than ever. Lead the transformation with an online Post-Master's DNP degree.
What Makes Us Unique?
Nursing expertise at every level. Sacred Heart University is known for its excellence in nursing education. With programs at all levels of study, from BSN to a Post Masters DNP online, Sacred Heart has the resources, expertise, and pathways that can propel you to continued career advancement and longterm success.
The Human Journey. Sacred Heart believes in a whole-person approach to patient treatment and nurse leadership. We call it The Human Journey. You'll explore what it means to be a human being through literature, philosophy, religion, sociology, and more.
Duration

3 years

Cost per Credit

$995

Credit Hours

39
Program Benefits
Leadership practice focus
MSN clinical hours count toward required DNP clinical hours
Award-winning doctorate-prepared faculty
Confidently Step Into a DNP Role With Policy, Advocacy and Ethics Knowledge
You can enter director-level roles to positively impact health care and patient populations. Advanced nurse leader roles range from working directly with patients to managing teams and solving complex practice problems. You can choose what role you'd like to fill with the highest degree in nursing. Complete your post master's DNP at your own pace; anywhere from two to six years.
Elevate your education from an MSN to DNP knowing that your MSN clinical hours count toward DNP-required practice hours. Engage in online coursework in evidence-based practice, healthcare policy, and population health with electives in education and executive leadership.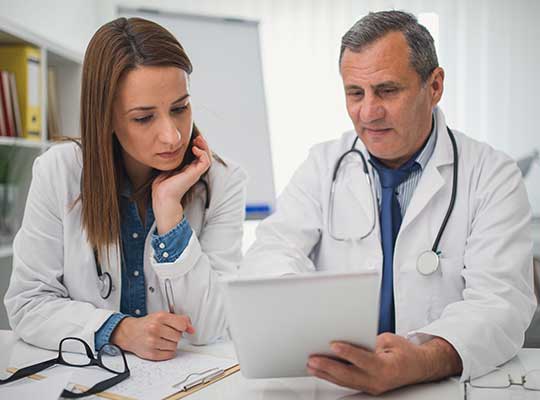 Curriculum: Practice-Focused Degree
Accredited by the Commission on Collegiate Nursing Education, the online Post-Master's Doctor of Nursing Practice program consists of 14 courses and 39 credit hours; 12 of these 39 credit hours will focus on the selection and completion of the post-master's DNP scholarly project.
Explore the interrelationship between policy, advocacy and ethics on clinical practice, learn to identify key processes involved in optimal patient safety, examine methods for describing disease rates and other vital statistics, and much more.
The DNP-prepared nurse leader is uniquely positioned to fulfill the current need in the health care system to apply and translate evidence into practice to improve quality, clinical and/or financial outcomes for individuals, populations, organizations, and/or systems. The DNP project is the mechanism for students to demonstrate the synthesis of knowledge gained from the program and the mastery of the American Association of Colleges of Nursing (AACN) Essentials of Doctoral Education for Advanced Nursing Practice.
All online post-masters Doctor of Nursing Practice (PM/DNP) students must develop, implement, evaluate, and disseminate a DNP clinical practice focused project that examines a problem/topic in a specific practice setting. At the completion of the DNP project, students will have generated new practice knowledge by "innovation of practice change, translation of evidence and the implementation of quality improvement processes in specific practice settings, systems or with specific populations to improve health or health outcomes" (Task Force on the Implementation of the DNP, 2015, p. 2).
PREVIEW COURSES
Career Outlook: Unlock Multiple Opportunities
Maximize your career opportunities in advanced clinical practice and executive health care leadership with the online Post Masters DNP program. You'll qualify for roles with a median annual income of $123,780 and projected growth rate of 40 percent through 2031.1
Student Learning Outcomes for Doctoral Education for Advanced Nursing Practice
Scientific Underpinnings for Practice
Organizational and Systems Leadership for Quality Improvement and Systems Thinking
Clinical Scholarship and Analytical Methods for Evidence-Based Practice
Information Systems/Technology and Patient Care Technology for the Improvement and Transformation of Health Care
Health Care Policy for Advocacy in Health Care
Interprofessional Collaboration for Improving Patient and Population Health Outcomes
Clinical Prevention and Population Health for Improving the Nation's Health
Advanced Nursing Practice
Admission Requirements
The following are some of the essential admission requirements for the online Post-Master's Doctor of Nursing Practice program:
Completed application
3.2 minimum GPA
Master of Science in Nursing or a master's degree with a concentration in nursing (including an undergraduate statistics course)
Current U.S. licensure as a registered nurse in your state of residence
Current advanced practice nursing licensure and certification documents
Proof of individual and professional liability insurance
Faculty: Side-by-Side Support
Highly focused on leadership and practice, the faculty at Sacred Heart University consists of doctorally prepared professors who will work side-by-side with you as you complete your degree.
Accommodate your busy schedule and learn when and where it's convenient for you. As an online student, you'll work with the same accomplished faculty, receive one-on-one support and benefit from the same opportunities as our on-campus students.
ONLINE AT SHU
At Sacred Heart University, we strive to keep our programs affordable and encourage you to explore all of your financial aid options, including federal aid, military benefits and available scholarships.
FINANCIAL AID