Post-Master's Doctor of Nursing Practice
Earn your CCNE-accredited post-master's DNP at a university known for nursing excellence.
A practiced-focused curriculum
100% online coursework
Qualify for roles with a median annual income of $113,930 and 26% projected growth rate through 20281
As the health care industry evolves, the need for leaders who can stay ahead of the curve is greater than ever. Lead the transformation with an online Post-Master's DNP degree.
Discover Your Potential with the Admissions Estimator
Admissions Estimator
What Makes Us Unique?
Nursing expertise at every level. Sacred Heart University is known for its excellence in nursing education. With programs at all levels of study, from BSN to a Post Masters DNP online, Sacred Heart has the resources, expertise, and pathways that can propel you to continued career advancement and longterm success.
The Human Journey. Sacred Heart believes in a whole-person approach to patient treatment and nurse leadership. We call it The Human Journey. You'll explore what it means to be a human being through literature, philosophy, religion, sociology, and more.
Learn More Today
Complete the form to learn more about this program.
Duration

3 years

Cost per Credit

$995

Credit Hours

39
Program Benefits
Leadership practice focus
MSN clinical hours count toward required DNP clinical hours
Award-winning doctorate-prepared faculty
Confidently Step Into a DNP Role With Policy, Advocacy and Ethics Knowledge
You can enter director-level roles to positively impact health care and patient populations. Advanced nurse leader roles range from working directly with patients to managing teams and solving complex practice problems. You can choose what role you'd like to fill with the highest degree in nursing. Complete your post master's DNP at your own pace; anywhere from two to six years.
Elevate your education from an MSN to DNP knowing that your MSN clinical hours count toward DNP-required practice hours. Engage in online coursework in evidence-based practice, healthcare policy, and population health with electives in education and executive leadership. You'll also benefit from visiting Connecticut to share research projects.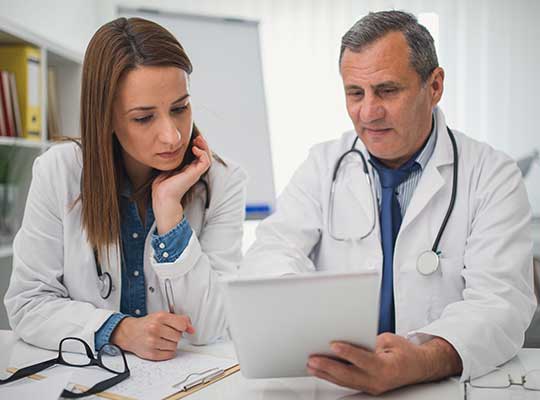 Curriculum: Practice-Focused Degree
Accredited by the Commission on Collegiate Nursing Education, the online Post-Master's Doctor of Nursing Practice program consists of 14 courses and 39 credit hours; 12 of these 39 credit hours will focus on the selection and completion of the post-master's DNP scholarly project.
Explore the interrelationship between policy, advocacy and ethics on clinical practice, learn to identify key processes involved in optimal patient safety, examine methods for describing disease rates and other vital statistics, and much more.
The DNP curriculum includes a scholarly practice project in which you'll use your research to improve critical care delivery and patient outcomes.
PREVIEW COURSES
Career Outlook: Unlock Multiple Opportunities
Maximize your career opportunities in advanced clinical practice and executive health care leadership with the online Post Masters DNP program. You'll qualify for roles with a median annual income of $113,930 and projected growth rate of 26 percent through 2028.1
Student Learning Outcomes for Doctoral Education for Advanced Nursing Practice
Scientific Underpinnings for Practice
Organizational and Systems Leadership for Quality Improvement and Systems Thinking
Clinical Scholarship and Analytical Methods for Evidence-Based Practice
Information Systems/Technology and Patient Care Technology for the Improvement and Transformation of Health Care
Health Care Policy for Advocacy in Health Care
Interprofessional Collaboration for Improving Patient and Population Health Outcomes
Clinical Prevention and Population Health for Improving the Nation's Health
Advanced Nursing Practice
Admission Requirements
The following are some of the essential admission requirements for the online Post-Master's Doctor of Nursing Practice program:
3.2 minimum GPA
Master of Science in Nursing or a master's degree with a concentration in nursing (including an undergraduate statistics course)
Current U.S. licensure as a registered nurse in your state of residence
Current advanced practice nursing licensure and certification documents
Proof of individual and professional liability insurance
APPLY NOW
Tuition Details
The DNP program from Sacred Heart University costs $995 per credit and features 39 total credit hours. Affordability and transparency are priorities at SHU. We want you to have everything you need in order to make a decision about investing in a high-quality education.
TUITION AND FEES
Faculty: Side-by-Side Support
Highly focused on leadership and practice, the faculty at Sacred Heart University consists of doctorally prepared professors who will work side-by-side with you as you complete your degree.
Accommodate your busy schedule and learn when and where it's convenient for you. As an online student, you'll work with the same accomplished faculty, receive one-on-one support and benefit from the same opportunities as our on-campus students.
ONLINE AT SHU
At Sacred Heart University, we strive to keep our programs affordable and encourage you to explore all of your financial aid options, including federal aid, military benefits and available scholarships.
FINANCIAL AID
Frequently Asked Questions
If you have a question we don't cover here, request more information or call 877-791-7181.
You should expect a one-day orientation on campus the week prior to your class start and another campus visit at the end of the program to present your DNP project. So, you are coming to campus two times for the DNP program. Details will be available prior to your residency but plan to be on campus in Fairfield, Connecticut, for one full day.
The DNP program requires 1,000 clinical hours minus any credit given for your MSN clinical hours. You can receive credit for up to 470 prior graduate clinical hours.
Nurses can transfer up to six credits from a regionally accredited university. You will need to submit syllabi for any coursework to be considered for transfer.
You can earn a DNP degree in three years.
You may take as many as six years to complete the program.
There is a $115 semester fee for every 16-week semester.
Library Fee: $40 per 16-week semester
Clinical Oversight Fee: $400 for NU 810, NU 820
Continuous Enrollment Fee: $1,000 for NU 900
Textbooks, supplies, personal expenses or loan fees
Visit our FAQ page