Master of Social Work (MSW)
A CSWE-accredited online MSW that prepares you to make a lasting impact
Advanced standing option available — earn your online MSW in 20 months
Pick from 2 specializations — Direct Clinical Practice or Direct Community Practice
Growing field 11% project job growth by 20281
Prior coursework counts — transfer up to 15 credit hours to save time and money.
Defend the dignity and well-being of others. Sacred Heart's CSWE-accredited online Master of Social Work prepares you to support and assist vulnerable populations. You'll gain a deeper understanding of modern social work theory and practice models, all from a perspective of truth and justice.
What Makes Us Unique?
Field Experience Model. Sacred Heart's unique Field Experience model is designed for students to practice their social work skills in a hands-on work environment. We pair you with trained Field Experience Liaisons. These social work experts work directly with you one year before you even go into the field, with a level of support unmatched by other schools.
Have More Questions? Find Answers Fast.
Visit our Prospective Student FAQ Experience to get the online MSW answers you need fast.
Learn More Today
Complete the form to learn more about this program.
Duration

3.5 years

Cost per Credit

$825

Credit Hours

60
Program Benefits
Build the skills to pursue licensure
Customize your degree to your career goals
Experience hands-on, applied learning
Attend class when and where it's convenient
Accredited Excellence, Online Flexibility, Human Touch
As a social worker, you've got to be ready for anything—and ready to work with people of all ages and backgrounds. Having the advanced skill set of a master's-educated professional can make all the difference to your career and the success of your clients.
Sacred Heart University's Master of Social Work offers specializations in either clinical or community practice, allowing you to serve wherever your passion lives. Whichever you choose, you'll receive components of both tracks, ensuring you graduate with comprehensive knowledge.
This program is accredited by the Council of Social Work Education (CSWE) and founded on SHU's values of social justice, diverse viewpoints and the educational enrichment of mind, body and soul.
Career Outlook: Evolving Norms Mean Increased Need
Born only a century ago from the fight against poverty, social work has come to play a vital role in improving quality of life for people from all backgrounds. The profession has waged a "revolution of mercy," based on justice and dignity for all.
That revolution is only expanding. The profession as a whole is projected to grow 11 percent over the next 10 years — and growth in some advanced practice areas is expected to be even higher.1 Healthcare social workers, for instance, are expected to see a 17 percent growth in opportunities over the next decade.2 Wherever you're career takes you, you'll be prepared to meet your clients' needs.
CAREERS AND SALARIES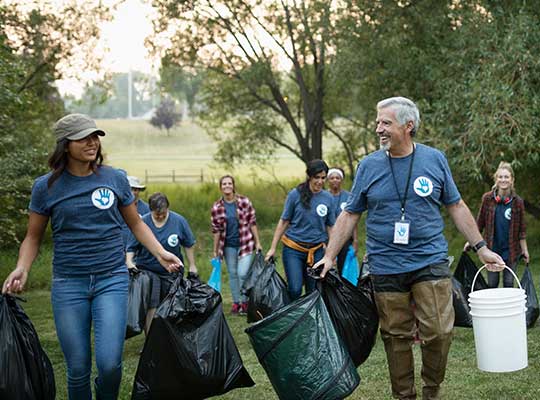 Curriculum: Advanced Capabilities Through Active Learning
Our master's of social work program is built on the tenets of social work, the Catholic intellectual tradition and a belief in experiential learning. Graduate with an understanding of advanced topics, such as:
Social welfare and the impact of socioeconomic and political trends
Human identity formation and how it's affected by diversity and our environment
Addressing inequities in social services due to institutionalized racism and sexism
Social policy is formulation, implementation and analysis
Coursework experience in substance abuse and addiction, aging and gerontology, grief, and working with children and families
Learn online, remain in your current role and begin applying the most in-demand skills right away. Students who have earned a bachelor's degree in social work with a 3.0 GPA within the past six years are eligible for our advanced standing program—an accelerated version of the program that takes just 20 months.
PREVIEW COURSES
Program Outcomes: Expanded Impact in Service to Others
You'll complete this program ready to:
Sit for the Licensed Master of Social Work exam in your state*
Integrate empirical knowledge, theoretical concepts and analytical skills
Understand the assessment and diagnosis of individuals within the context of their environment
Assess client-service systems at the micro, mezzo and macro levels
Work with individuals, families, groups, communities and organizations
*Students are responsible for understanding the licensing requirements in the state in which they plan to practice.
Available Specializations
Focus your education with one of two MSW specializations, featuring practicum-related coursework relevant to either a clinical or a community practice setting.
Admission Requirements
To apply for the Master of Social Work from Sacred Heart University, you'll need:
3.0 minimum undergraduate GPA (students with 2.7 and up may be considered)
Bachelor's degree from an accredited college or university (BA, BS, BSW), CSWE-accreditation required for Advanced Standing
Résumé
Personal statement outlining why you are pursuing the MSW at SHU
Two letters of recommendation, no older than 2 years
Official transcripts from all previously attended institutions
Advanced standing applicants must meet additional requirements, which can be found on the admissions page.
FULL REQUIREMENTS
Tuition Details
This 60-credit-hour program costs $825 per credit hour. Affordability and transparency are priorities at SHU. We want you to have everything you need in order to make a decision about investing in a high-quality education.
TUITION AND FEES
Faculty: Leaders in the Field
Our award-winning faculty come from diverse backgrounds, having worked in areas such as social and economic justice, social policy, child welfare, trauma, grief, parenting, addiction, adoption, homelessness and hospice care.
Read more about Sacred Heart University's MSW Faculty:
Interview with Jill Manit, Ph.D., MSW
Accommodate your busy schedule and learn when and where it's convenient for you. As an online student, you'll work with the same accomplished faculty, receive one-on-one support and benefit from the same opportunities as our on-campus students.
ONLINE AT SHU
At Sacred Heart University, we strive to keep our programs affordable and encourage you to explore all of your financial aid options, including federal aid, military benefits and available scholarships.
FINANCIAL AID
Frequently Asked Questions
If you have a question we don't cover here, request more information or call 877-791-7181.
There are 1,100 field hours required for four courses, and hours can be completed in your community. All clinical hours start the last semester of the first year of the program.
The MSW does prepare you for licensure. License requirements vary by state. Though students are responsible for verifying license requirements in the state in which they plan to practice, our friendly admissions team is ready to answer questions and guide you through this process. Reach out to them at 877-791-7181 or onlineadmissions@sacredheart.edu.
Yes, the curriculum for the online MSW includes a specialization. Choose from:
If you have earned a bachelor's degree in social work with a 3.0 GPA within the past six years, you're eligible for our Advanced Standing program and can graduate within 20 months. If your undergraduate degree is focused in a field other than social work, you can complete the online MSW at Sacred Heart within 3.5 years.
You may take up to six years to complete the program.
Visit our FAQ page