RN to Bachelor to Master of Science in Nursing
Earn two CCNE-accredited degrees in one accelerated RN to MSN program.
Your prior work counts — transfer up to 90 credits
Pick from 3 specializations at the MSN level
More affordable and faster — save time and money by earning your BSN and MSN at once
Our CCNE-accredited RN to MSN online program offers you a faster pathway to advance your nursing career. Graduate with the experience and credentials to meet the increased demand and 6% projected growth rate — faster than the national average — within the nursing field.
Admissions Estimator
What Makes Us Unique?
Nursing expertise at every level. Sacred Heart University is known for its excellence in nursing education. With programs at all levels of study, from BSN to DNP, SHU has the resources, expertise, and pathways that can propel you to continued career advancement and long-term success.
The Human Journey. SHU believes in a whole-person approach to patient treatment and nurse leadership. You'll explore what it means to be a human being through literature, philosophy, religion, sociology, and more.
Learn More Today
Complete the form to learn more about this program.
Duration

3.5 years

Cost per Credit

$695

Credit Hours

54-147
Program Benefits
Led by full-time expert nurses
No on-campus visits
Complete clinicals close to home
Six flexible start dates per year
Earn 2 CCNE-Accredited Nursing Degrees in Under 4 Years
Seize the opportunity to grow your career by entering as an RN and advancing in your nursing knowledge, role and salary while improving the patient care you deliver. Get two degrees with one accelerated program to step into higher-paying positions. Choose from six convenient starts.
Tailor your learning with an MSN specialization – Nursing Education, Nursing Management & Executive Leadership, or Clinical Nurse Leader – to match your goals.
Work full-time while studying at your own pace. Sacred Heart University online MSN tuition may be up to $8,000 less when coupled with the BSN. Four courses from the BSN apply to the MSN, and we'll accept up to 90 transfer credits.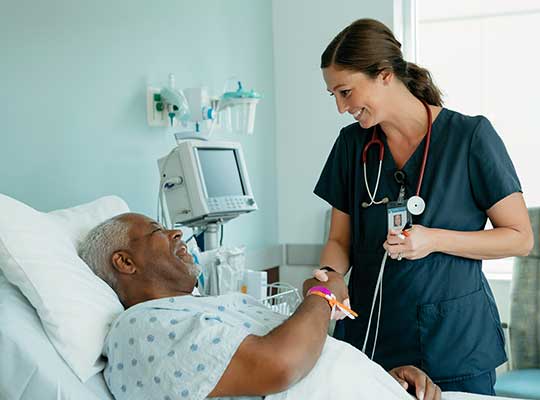 Curriculum: Two Programs in One
Our online RN to BSN to MSN online allows you to experience two full degrees' worth of coursework in a single program. You'll start your coursework with Sacred Heart University's signature core curriculum, The Human Journey, exploring what it means to be a human being through literature, philosophy, religion, sociology and more.
Complete your coursework with 8–9 MSN courses, depending on your specialization. That's 3–4 fewer courses than the 12 required by most MSN programs, saving you time and money.
PREVIEW COURSES
Career Outlook: Graduate Ready for Magnet Positions
Jobs in nursing are booming, with a projected growth rate of 6 percent — faster than the national average — between 2021 and 2031.1
Earning both your BSN and your MSN gives you access to top-tier leadership positions and an incredible variety of roles. Focus your career on bedside nursing and providing truly exceptional patient care, or branch out into an advanced skill set in education, research, consulting or management.
In addition, more and more hospitals are pursuing the American Association of Colleges of Nursing's Magnet Recognition, the gold standard for health care that emphasizes the importance of a BSN-educated staff. Stand out to these ambitious institutions with your advanced degree.
CAREERS AND SALARIES
"The online RN-MSN program is very flexible. It allows you to work your schedule around your job and family and study at your own pace."
– Monika Costa, Newington, Conn., RN to Bachelor to Master of Science in Nursing, Nursing Education Specialization
RN to BSN to MSN Student Learning Outcomes
The student learning outcomes are derived from the American Association of Colleges of Nursing Essentials: Core Competencies for Professional Nursing Education (2021), Advanced Level Competencies and Sub-Competencies. Upon completion of the BSN program, graduates will demonstrate the outcomes listed below:
Translate into action knowledge from the philosophical and theoretical traditions of nursing science and other disciplinary perspectives to facilitate the ethical integration of evidence-based practice to advance nursing scholarship.
Lead collaboratively within the interprofessional team to develop and evaluate plans of care with evidence-based, person-centered care principles promoting quality and safety outcomes.
Collaborate with strategic partners to implement health policy while advocating for equitable and sustainable population health care.
Integrate complex systems-based practice to develop innovative and evidence supported equitable solutions to improve health outcomes across the lifespan of diverse populations.
Apply best practices of informatics and communication technologies in diverse care settings to collect, analyze, and synthesize data to promote quality and safe health care outcomes.
Demonstrate professional behaviors reflecting current regulations, policies, and practice integrating professional concepts including ethics, compassion, diversity, equity, and inclusion.
Model leadership within the nursing profession that embraces self-care, a spirit of inquiry, advocacy, change, mentorship, and service to others.
Choose From Three MSN Specializations
As part of the online RN-BSN-MSN program, you will choose from three Master of Science in Nursing specializations. Deepen your expertise in nursing education, nursing administration, or the Clinical Nurse Leader position to build a career that suits you.
If you already have your bachelor's degree, in nursing or another field, you may be interested in our online Master of Science in Nursing.
Admission Requirements
To apply for Sacred Heart University's online RN-BSN-MSN program, you'll need:
Associate's Degree in Nursing or Diploma in Nursing
Unencumbered RN license in the state where you reside
Minimum 3.0 GPA on a scale of 4.0
Résumé
Statement of professional goals
Two letters of recommendation
Completed criminal background check
Official transcripts of all prior nursing and academic work
APPLY NOW
Tuition Details
In response to the critical need for BSN and MSN-trained nurses, we've deepened our commitment to providing greater access to quality nursing education — the online RN-BSN-MSN program is now $200 per-credit-hour less than it was in 2020 for the BSN portion.
The program features a total of 30–120 credits in the undergraduate portion of the degree, and 24-27 graduate credits. To save money and time, you may transfer in up to 90 credits, subject to program director approval.
Transfer in up to 90 credits (subject to credit eligibility) to graduate even faster and save even more money on your degree.
Affordability and transparency are priorities at SHU. We want you to have everything you need in order to make a decision about investing in a high-quality education.
See New Tuition Rates
Faculty: Accomplished and Accessible
Our online RN-BSN-MSN faculty have years of experience in their nursing specialties, extensive scholarly credentials and cutting-edge knowledge from the field.
These award-winning professors are well-versed in online teaching and they're available to answer your questions and support you as you take the next step in your nursing journey.
Accommodate your busy schedule and learn when and where it's convenient for you. As an online student, you'll work with the same accomplished faculty, receive one-on-one support and benefit from the same opportunities as our on-campus students.
ONLINE AT SHU
At Sacred Heart University, we strive to keep our programs affordable and encourage you to explore all of your financial aid options, including federal aid, military benefits and available scholarships.
FINANCIAL AID
Frequently Asked Questions
If you have a question we don't cover here, request more information or call 877-791-7181.
You're saving time and money by earning a Bachelor of Science in Nursing and a Master of Science in Nursing through a single program, which you could complete in 3.5 years.
You can take as long as six years to complete the program.
You may transfer up to 90 credits, meaning you would need 54–57 credits from Sacred Heart University (depending on the specialization you choose) to complete the BSN and MSN.
For the Bachelor of Science in Nursing portion of the program, you'll complete 72 clinical hours. The number of clinical hours you need to complete for the Master of Science in Nursing depends on the specialization you select. They are as follows:
The Nursing Education specialization requires 180 clinical hours
The Nursing Management and Executive Leadership specialization requires 120 clinical hours
The Clinical Nurse Leader specialization requires 348 clinical hours
The BSN program does not offer a specialization. Within the MSN, you'll choose from three specializations:
The BSN does not have licensure. Graduate work in the online MSN Clinical Nurse Leader specialization prepares you for the AACN's CNL Certification Exam. The online MSN in Clinical Nurse Education specialization will prepare you for Nurse Educator certification from the National League for Nursing.
Visit our FAQ page