Online MSN: Family Nurse Practitioner
An accredited online FNP that prepares you for patient primary care.
100% online coursework — complete your clinical locally
Curriculum prepares you to sit for ANCC or AANP exams
High demand for FNPs — 40% job growth over the next decade1
Rise in the ranks to be the patient's source for primary care. Sacred Heart's online FNP program will teach you the skills and provide the training to care for people of all ages. Graduate ready to conduct examinations, diagnose and treat illnesses, and help patients improve their well-being.
Sacred Heart University also offers a Post-MSN Family Nurse Practitioner Certificate designed for RNs who have an interest in advancing their nursing career. This online 42-credit program helps students prepare for certification exams required to become a family nurse practitioner after graduation from an MSN program. Graduates will also be eligible to obtain licensure as an APRN.
Admissions Estimator
What Makes Us Unique?
Nursing expertise at every level. Sacred Heart University is known for its excellence in nursing education. With programs at all levels of study, from BSN to DNP, Sacred Heart has the resources, expertise, and pathways that can propel you to continued career advancement and longterm success.
The Human Journey. Sacred Heart believes in a whole-person approach to patient treatment and nurse leadership. We call it The Human Journey. You'll explore what it means to be a human being through literature, philosophy, religion, sociology, and more.
Learn More Today
Complete the form to learn more about this program.
Duration

2.5 years

Cost per Credit

$955

Credit Hours

42
Program Benefits
Three starts per year
Advance to become a primary care provider
Hands-on learning focused on evidence-based practice
Sacred Heart's Online FNP Program Delivers Advanced Skills Without Pausing Your Career
Family nurse practitioners are in demand – with an expected 40% job growth over the next decade1 – and deliver the highest level of patient care allowable under a nursing credential. This role is essential to solving modern health care challenges.
If you're wondering how to become a nurse practitioner online, Sacred Heart is ready to help you through the process and prepare you for a successful FNP career. Gain skills to conduct physical exams, diagnose diseases and injuries, and treat common illnesses. Prepare to provide health care guidance within diverse family systems and empower patients to make lifestyle choices that benefit their long-term health.
Sacred Heart's CCNE-accredited program offers a flexible online format so you can study when it's convenient. Graduate ready for the American Nurses Credentialing Center (ANCC) or American Association of Nurse Practitioners (AANP) certification exam.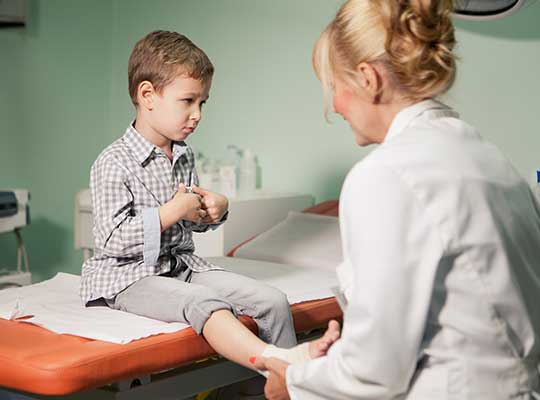 FNP Online Curriculum
Through 42 total credit hours, gain the skills to diagnose and treat patients over their entire lifespan through the use of health assessments, statistical data, and the diagnostic reasoning process. You'll also learn to communicate health plans to diverse patients with varied family systems, understand the various drug groups, and manage drug therapy to avoid adverse reactions.
As part of your degree, you'll complete a clinical component. To meet this requirement, you'll need to secure your own clinical placement and may be required to travel significant distances to access clinical sites and achieve the necessary clinical hours.
You'll graduate qualified to sit for national certification exams offered through the American Nurses Credentialing Center (ANCC) or the American Association of Nurse Practitioners (AANP).
PREVIEW COURSES
Career Outlook: 40% Growth Through 2031
Demand is high for quality primary care providers. As a primary care nurse practitioner, you could expect to earn a median income of $108,488 and find job growth of a staggering 40 percent over the next decade.1 That's more than 7x the national average.
In addition to a specialty hospital setting, nurse practitioners can often be found providing personal care services, as well as primary care services in business, professional, labor or political organizations.
CAREERS AND SALARIES
Graduate Student Learning Outcomes
At the end of the program, the student will be able to:
Translate into action knowledge from the philosophical and theoretical traditions of nursing science and other disciplinary perspectives to facilitate the ethical integration of evidence-based practice to advance nursing scholarship.
Lead collaboratively within the interprofessional team to develop and evaluate plans of care with evidence-based, person-centered care principles promoting quality and safety outcomes.
Collaborate with strategic partners to implement health policy while advocating for equitable and sustainable population health care.
Integrate complex systems-based practice to develop innovative and evidence supported equitable solutions to improve health outcomes across the lifespan of diverse populations.
Apply best practices of informatics and communication technologies in diverse care settings to collect, analyze, and synthesize data to promote quality and safe health care outcomes.
Demonstrate professional behaviors reflecting current regulations, policies, and practice integrating professional concepts including ethics, compassion, diversity, equity, and inclusion.
Model leadership within the nursing profession that embraces self-care, a spirit of inquiry, advocacy, change, mentorship, and service to others.
Admission Requirements
To apply for the MSN – Family Nurse Practitioner program from Sacred Heart University, you need:
BS in Nursing from an accredited college, and official transcripts demonstrating a minimum GPA of 3.0
Unencumbered RN license in your state and a copy of any other state license, including advanced practice licensure and certification
Individual and professional liability insurance coverage that meets current state requirements
Criminal background check
Statement of professional goals
Résumé
Two letters of recommendation (one from a supervisor from a recent health care position and one from a nursing peer)
Undergraduate courses in statistics and health assessment (30 hours or greater) required
Undergraduate research course recommended
APPLY NOW
Tuition Details
This 42-credit-hour program costs $995 per credit hour. Affordability and transparency are priorities at SHU. We want you to have everything you need in order to make a decision about investing in a high-quality education.
TUITION AND FEES
Faculty: Personal Connection With Experienced Mentors
Sacred Heart University's online FNP faculty possess years of clinical experience in their nursing specialties and are recognized as experts among their peers. Most remain engaged in clinical practice either in direct care or consulting.
Our team places a high value on creating a personal atmosphere, and we encourage a spirit of mentorship and collaboration between students and faculty.
Accommodate your busy schedule and learn when and where it's convenient for you. As an online student, you'll work with the same accomplished faculty, receive one-on-one support and benefit from the same opportunities as our on-campus students.
ONLINE AT SHU
At Sacred Heart University, we strive to keep our programs affordable and encourage you to explore all of your financial aid options, including federal aid, military benefits and available scholarships.
FINANCIAL AID
Frequently Asked Questions
If you have a question we don't cover here, request more information or call 877-791-7181.
Nurses can transfer up to six credits from a regionally accredited university. You will need to submit syllabi for any coursework to be considered for transfer.
The Master of Science in Nursing – Family Nurse Practitioner program can be completed in two years and six months.
You may take up to six years to complete the program.
There are three on-campus residencies in Fairfield, Connecticut, for the MSN–FNP program. You should expect a two-day orientation on campus the week prior to your class start, as well as one-day clinical competencies on campus at the middle and end of the program.
You graduate qualified to sit for national certification exams offered through the American Nurses Credentialing Center (ANCC) or the American Association of Nurse Practitioners (AANP).
The FNP program requires 550 clinical hours spread over three semesters.
Visit our FAQ page
Source
Burning Glass Technologies: Labor Insight™. Retrieved October 15, 2019.